Athlete Of The Week - Brandon Arrey 
After a huge week in Belgium, Brandon ran two 47 second 400 metre races, with the first being a PB of 47.26 seconds while beating some tough Irish competition and putting him in great shape heading into the senior events in Switzerland in two weeks time. Brandon will hope to be part of the 4x400m relay squad making the long trip abroad. Having ran a PB in race 1 of the pre-program in Oordegem, Brandon was invited onto the main program of the pro international meet facing off against some world class athletes. Brandon needed to bring his A-game and with a PB in the legs he ran an amazing, strong 47.90. Brandon's performances make him a very worthy recipient of this weeks 'Athlete Of The Week' Award.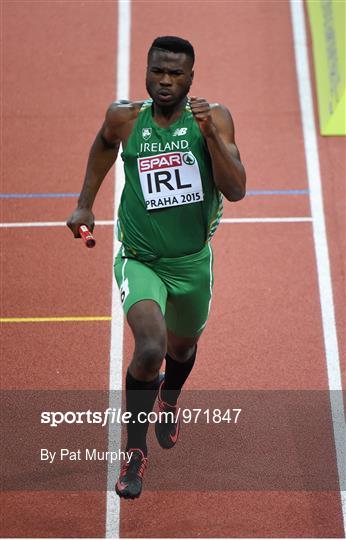 Personal best - 47.26 400m
FB - If you could just start by telling us your personal bests, your favourite events and your most memorable performances to date.
B- My favourite events are 400m and 400m hurdles and my most memorable was the schools intermediate 400m final. Running a personal best and winning it. I went on to do the double

Fb- We remember that day well being corkonians it was a proud day for us to watch, it was two massive runs! With all this success you must've started somewhere, where and when did you start athletics, what got you into the sport and being originally a blarney/inniscarra athlete, who started you on the sprint trail?

B- I started Athletics when I was 16 years old. The first time I fell in love with the sport was in school because it was the only sport that if you put in the training and work you'll get something back in return whereas in team sports i feel it is down to how the team is as a whole. My best friend got me into the sports, I followed him to pass time and I accidentally feel in love with it. 
Blarney was the club I was with originally. I'm currently representing Raheny. My first year doing sprints I won the Munsters under 17 but didn't place in the all Ireland. And I was determined to win a medal. And for years I trained and was final rewarded with a medal.

I actually started doing cross country and absolutely hated it. It was just so painful and to be honest I didn't understand why anyone could do this so I obviously stopped.

FB: With all the highs you've experienced in the sport, how do they compare with the lows? What has been your lowest point in the sport and what would be your advice to athletes currently plateauing or dealing with adversity in one way or another?


BA: You take the lows very personally, especially when you are progressing as a young athlete but you also have to take it into perspective with more serious matters going on in the world. I really learned this the hard way as the lowest for me was last season - losing my best friend and tearing my hamstring the week before Europeans under 23s. Emotionally it was draining but that's exactly where you are tested as an athlete because you have to keep pushing and remember how far you've come and how far you want to get to.

The advice I would give young athletes is to take every experience as an experience whether it is good or bad because it builds your character and it allows you to carry yourself all the way to pro. Also have a positive outlook towards your coach and training partners because these are the people that get you to an elite level in the sports.

FB: Speaking of coaches and training partners you've obviously found the ideal pattern of training, what would a typical training week look like for you ?

B: During the winter a lot of my training would be based adding on speed and endurance - So it ranges from 250s all the way to 600s. As we get more into the racing season we pick up the speed with 150s and 250s. Mondays are high intensity so 200s at 23 seconds pace. Tuesdays would be tempo session on grass. Wednesday would be gym - based around strength and explosive work. Thursday would be a lactic session so 150s on Astro. Fridays would be based around conditioning and Saturday would be speed. Sunday rest.

FB: With all that training do you find it hard to balance studies ? And how important is diet to you to fuel both physically and mentally for training and study?

B: Balancing is hard because you're trying to balance a social life alongside an athlete lifestyle. Diet is very important. I try to be fuel for all my sessions, especially during the winter.

FB: Lastly, what is next for Brandon Arrey? Where will we see you and what are your goals for the future?

B: I'd like to make Tokyo 2020 that's my biggest dream in Athletics! I'd love to be a coach some day and be able to help young athletes, (especially in the minority's) become something of the future.